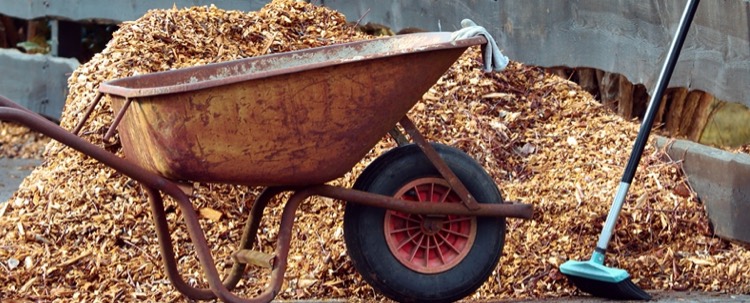 Your yard debris can be recycled as mulch with the advantage of retaining the nutrients found in these organic materials. Additionally you will save money and reduce your environmental impact by not transporting and disposing of it.
Grass Clippings
The best use for grass clippings is to leave them on the lawn. Grass clippings will decompose rapidly, adding nutrients back into the soil. A two‐inch layer of grass clippings provides weed control if they are not full of weed seeds. It is best to build up the layer gradually using dry grass, not fresh clippings, to prevent the formation of a solid mat. Be careful not to use clippings from lawns that have been treated with herbicides.
Hay and Straw
Never use hay for mulch since it contains too many weed seeds. Straw decomposes rapidly, so you will have to replenish it to keep the weeds down. Straw is not very ornamental and is best for a vegetable garden or over newly sown lawns. Straw will improve the soil as it decays.
Leaves
A 2‐ to 3‐ inch layer of leaves provides good weed control. It is best to shred the leaves coarsely, using a shredder or your lawn mower. Whole leaves have a tendency to blow away, while finely shredded leaves do not allow water to penetrate. Oak and beech leaves help to acidify the soil for acid‐loving plants. Leaves are usually easy to get, attractive as a mulch, and they will improve the soil once they decompose. After the leaves decompose, dig them into the soil and add a new layer of mulch on top.
Fir or Hemlock Bark
A 2‐ to 3‐ inch layer of softwood bark is good for weed control. Softwood bark makes an attractive, medium to dark‐colored mulch. It can be purchased in various particle sizes, from shredded to large‐sized chunks, called nuggets. Large bark nuggets float in water and may not stay in place during a heavy rain, especially on slopes.
Wood Chips
This material contains bark and pieces of wood of various sizes and makes an attractive mulch. A 2‐ to 3‐ inch layer of wood chips provides good weed control. Small wood chips decompose very rapidly drawing nitrogen from the soil, which needs to be replaced by nitrogen fertilizer.
Hazelnut or Cocoa Shells
Hazelnut or cocoa shells make a long‐lasting, attractive, dark brown mulch that is effective in retaining moisture in the soil. The jagged edges will also discourage cats from digging (as well as doing other things) in your plantings.
Ground Cover
Many perennial ground cover plants, such as thyme, vinca, pachysandra, mondo grass and liriope, will cover the soil and act as a mulch.