We have chosen some of our favorite annuals for your shade containers, hanging baskets or window boxes. The following examples can give you some ideas to create nice arrangements.
You can mix at your will, the plants and colors.
---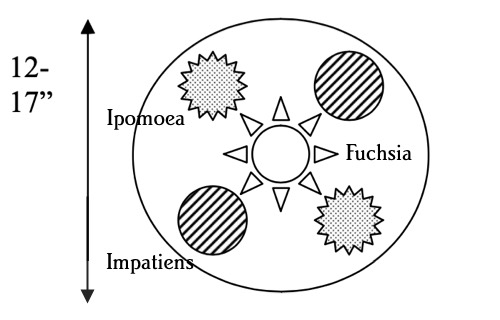 Hanging Basket 1
Fuchsia­ - An upright variety which grows to 10­12"
Ipomoea­ - Sweet potato vine Impatiens­ We suggest rosebud
Impatiens in 4" pots.
Tips for Establishing New Plantings
Location:
All the plants selected for these containers can handle all day filtered sun, or direct morning sun with afternoon shade. The plants may bloom less if they do not receive any direct sun. In deep shade it would be appropriate to replace some of the flowering plants with beautiful foliage.
How to Plant:
Choose a container of appropriate size and fill with potting soil. If you do not want to fertilize every week, mix a time release fertilizer (such as Osmocote) with the potting soil. Follow package directions for application rates. Lightly moisten the potting soil. Make small pockets in the soil and plant your annuals. Gently water after planting the whole container.
Water:
Water Every other day. This may change with the weather.
Fertilizer:
If you do not use a time release fertilizer, use a blooming fertilizer such as Peter's Super Bloom Booster or Fox Farm Big Bloom every week.
Cleaning:
Dead head the old flowers to encourage new ones. Pinch just below the spent blossom.
Combinations:
Create your container with a color theme such as hot or cool colors or mix in some grasses, perennials or ferns for shade to extend the season of your container.
---
Download all the planting recipes for reference here: Shade Combinations with Annuals.